| | |
| --- | --- |
| One more week until SATELLITE 2018! | |
Lindsey Fuller
Show Director
It's hard to believe that SATELLITE week starts in less than seven days, but here we are! It's been a whirlwind time both in preparation for SATELLITE and in the satellite community. Markets and industries across the board are either coming online or exploring ways to be more connected, and satellite technology is poised to make it a reality.
Next week, we're welcoming thousands of veterans from our satellite community to Washington D.C., but we're also saying hello to thousands of first-timers to SATELLITE! Our audience is growing and becoming even more diverse; here is a sneak peek at some companies who have representatives attending for the first time:
Amazon Web Services ● American Museum of Natural History ● Angel Broadcasting Network ● Bangladesh Telecommunication Regulatory Commission ● beIN Sports ● Bureau of Land Management ●… Read More»
announcements

The official SATELLITE 2018 Mobile App is now available on Google Play and the Apple App Store! If you haven't noticed, there's a lot to do during SATELLITE week. Whether you're interested in SGx, Startup Space, Conference Sessions, Networking Events or visiting the Show Floor, you'll want to use our app to plan out your schedule so you don't miss something you've been waiting all year for!
conference update
Tuesday Opening General Session Satellite Operator CEO Panel to feature Guest Moderators!
SATELLITE 2018 is excited to announce a new format for our annual Tuesday Opening General Session featuring the CEOs of the largest satellite operators in the world. For the first time, the panel will feature guest moderators that will join the group on stage to ask the operators questions about opportunities in specific data networking verticals. The guest moderators are: Andrew Spinola, Equity Research Director of Wells Fargo; Guillermo Muniz, Director, Satellite and Network Engineering of Royal Caribbean Cruises Ltd.; and Maciej Kranz, Vice President of Strategic Innovation at Cisco. They will join session moderator Mark Holmes in a discussion with the CEOs of Intelsat, Telesat, SES, Eutelsat and ViaSat. You don't want to miss this year's exciting new opening general session! (Open to all attendees)
Howard Lance to deliver Thursday Morning Keynote at SATELLITE
Howard Lance,… Read More»
exhibition update
This year's exhibit hall will feature more than 84,000 square feet of exhibit space, with leading products, services and solutions on display from the world's most innovative and exciting suppliers, manufacturers and integrators in the satellite and space sectors. If your company wasn't able to exhibit at SATELLITE 2018 but would like to have an exhibit presence at SATELLITE 2019, please join us in the Sales Office, located in BOOTH # 1557 on the show floor of the Walter E. Washington Convention Center at 12:30 PM on Thursday, March 15 to reserve prime exhibit space for SATELLITE 2019 at a discounted rate!
More than 90% of exhibit space is typically reserved on-site - if you like what you see at SATELLITE 2018 and want to stake your claim to prime space for the 2019 event, please join us on Thursday, March 15 at 12:30 PM in the Sales Office, booth… Read More»
networking
SATELLITE Monday Luncheon Keynote: The Four Corners of Innovation Can Unlock the Growth Potential for High Throughput Satellites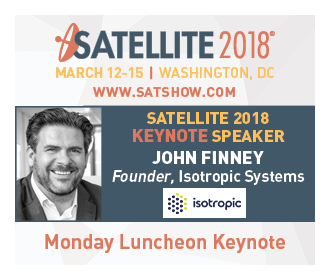 Today, the satellite industry is in transition. It is working hard to join the broad telecommunications landscape and break through the current barriers that limit mass-market adoption of satellite consumer and enterprise broadband. Innovative concepts and technologies must come together to propel satellite into the major role it could play in our hyper-connected society. The four corners of innovation — Delivery, Capacity, Efficiency and Distribution — must each create enormous price and performance disruption to meet the latent user demand for broadband worldwide.
The satellite ground ecosystem must heavily impact distribution. But today's antennas are not adequately innovative next-generation, high-throughput terminals. A new class of terminals is required for the industry to successfully transition to new markets. This ground technology must dramatically increase user… Read More»
press room
Next Generation In-Orbit Satellite Servicing Platform to be Unveiled at SATELLITE 2018
A new, robotic servicing system that extends satellite life will be revealed and a discussion about how in-orbit servicing is dramatically shifting the economics of space will be the focus of a SATELLITE 2018 Conference and Exhibition session held Tuesday, March 13, at 2:00pm ET at the Walter E. Washington Convention Center in Washington D.C.
ROCKVILLE, Md. – Tuesday, February 27th – The next generation of in-orbit robotic servicing technology will be revealed at the SATELLITE 2018 Conference and Exhibition during a general session featuring guest speakers Orbital ATK Chief Executive Officer David W. Thompson and SpaceLogistics President Tom Wilson. The two speakers will join SATELLITE 2018 Chairman Jeffrey Hill for a discussion about the economic impact of revitalizing and reusing expired or faulty satellites on global industries. Orbital ATK is a leader in the emerging space… Read More»
satellite market update
Telesat's New HTS to Triple Bandwidth Speeds in Northern Canada
Via Satellite, February 28, 2018 - Bell Canada subsidiary Northwestel is on track to connect all 25 Nunavut communities in northern Canada thanks to its partnership with satellite operator Telesat. In an interview with Via Satellite, Northwestel President Curtis Shaw said...
New Satellites Should Boost 2018 Revenues for Major Operators
Via Satellite, February 27, 2018 - Although in line with Eutelsat's expectations, revenue in the second half of 2017 came up short compared to the same period in 2016 at 696.6 million euros ($856.1 million) — a 7.7 percent decline. Revenue for the quarter ended....
EXCLUSIVE: SES CEO on Setting New Bandwidth Capacity Record
Via Satellite, February 26, 2018 - Carnival established a new industry apex in connectivity capabilities at sea today. Using its newly developed connectivity service, MedallionNet, and working with SES Networks, Carnival and Princess Cruises achieved the most bandwidth ever delivered to a mobile platform, verifying during a demonstration...
Could 4K Channels Help Save the Pay-TV Industry in the US?
Via Satellite, February 23, 2018 - Commercializing 4K TV channels could be the key to survival for cable operators in the United States, according to 4KUniverse founder and Chief Executive Officer (CEO) Matthew Mancinelli. In an interview with Via Satellite, Mancinelli suggested...
OSN CEO: "OTT a Big Part of Our Future"
Via Satellite, February 21, 2018 - OSN could launch an Ultra-HD offering by the end of the year, OSN CEO Martin Stewart told Via Satellite in an exclusive interview. OSN is one of the largest buyers of capacity in the Middle East. It has around 14 transponders at the moment, and Stewart believes...